Donor Profiles
A Planned Gift to Cheer About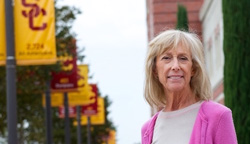 Judy Hunter's first love was football.
As the only child of a father who was a huge football fan, Hunter '63 became a student of the game at a young age. Attending USC in the early 1960s deepened her love for football even more.
But Hunter didn't make a serious commitment to USC football until 1967. That's when she witnessed one of the best college football games of the last century—USC's come-from-behind win against No. 1-ranked UCLA.
Hunter was hooked. She became a football season ticket holder soon after. In the 1970s, she became a fixture at USC men's basketball games, too.
While Hunter's devotion to USC's outstanding athletic programs spans half a century, she wanted to make sure Trojan athletes continue to excel for many generations to come. That's why she made a bequest to USC to support athletic scholarships for women in basketball and volleyball. Hunter worked with a USC gift planning expert to facilitate her bequest.
"Every time I'm cheering in the stands at the Coliseum and the Galen Center, I feel proud knowing I'm investing in our Trojan athletes' future successes," said Hunter, who can be found in her seat on the 35-yard line at every Trojan home football game.
Hunter, who retired in 2002 after 38 years as a Los Angeles Unified School District social studies teacher, is filling her free time with more than just football and basketball these days.
The Southern California native is launching a new career as a television commercial actor and commercial print model. This might seem like a radical departure from her time teaching at Ulysses S. Grant High School in the San Fernando Valley, but Hunter's family has Hollywood roots.
Her grandfather, C. Roy Hunter, was a pioneer in the early years of the film industry, working as an executive in the camera department at both Universal and Paramount studios. Her father, Ken Hunter, was a camera operator for two popular television series, Little House on the Prairie and Highway to Heaven. She donated her father's Little House on the Prairie scripts to establish the Ken Hunter Collection at the USC School of Cinematic Arts Library. The collection is available for use by researchers.
"USC has been a part of my life for over 50 years," Hunter said. "Having my family's legacy live on here at 'SC means the world to me."
So while Ken Hunter spent his entire career behind the camera, his daughter has her sights set on following in his footsteps. But this time, it's in front of the camera.