Donor Profiles
Honoring Our Veterans with an Endowed Scholarship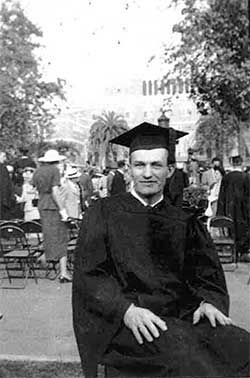 The G.I. Bill made it possible for 1st Lt. Walter Michal Ross to earn a degree from USC in 1949.
Today, almost 70 years later, his daughter Cindy Ross Schrank '68 hopes to help more military veterans and active-duty service members follow in her father's footsteps.
Schrank established an endowed scholarship for students enrolled in the Master of Business Veterans (MVB) program at the USC Marshall School of Business. With guidance from the university's gift planning experts, she is making this generous gift through payments from her retirement account. The MVB program is specifically designed to leverage management and leadership skills that students gained from their military experience.
"To help veterans be part of the university's MBV Program is not only to salute my father," Schrank emphasized, "but to honor every veteran who has given so selflessly. I want to let our veterans know that their sacrifices are appreciated, and I want to help them realize their special potential."
Still, Schrank did acknowledge that supporting veterans studying at USC brings her family's story "full circle."
After World War II, Congress passed the G.I. Bill of Rights to support veterans returning to civilian life by providing them with low-interest mortgages and business loans, job training, unemployment benefits and grants for college tuition. By 1947, veterans like Ross, a Marine Corps pilot who studied accounting at USC, made up almost half of all students admitted to colleges across the nation.
Although Schrank was just 2 years old when her father graduated with a bachelor's degree in business from USC, she fondly remembers how the university and the Marine Corps were an integral part of her upbringing.
Ross was a die-hard Trojan and a dedicated Marine who raised his daughter to love cardinal and gold—and scarlet and gold, the Marine Corps colors. So, it was no surprise when Schrank enrolled at USC, studying marketing at what was then called the USC School of Business Administration.
Schrank loves 'USC because much like the Marines, members of the Trojan Family always support one another.
Schrank hopes that her story "hits a note" with other Trojans, inspiring them to find a program they can support as well. She also envisions instilling MVB graduates with the importance of giving back.
"This is part of the legacy of those of us who were impacted by World War II," she said. "I feel compelled to honor and support these young men and women who have served our country in the past, who are serving it presently, and who will serve it in the future."